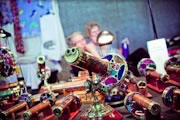 The next destination from Perth is Melbourne. I used a discounted economy class flight again for this time and my seat was the center of the 3 row seat. What's more two massive guys were sitting both sides of me. I'd been thinking economy flights can be comfortable enough because of the previous flight, but I've changed my mind. Upper class is definitely preferable if it's possible to use.
Meeting with Cousins
I have an aunty in Melbourne and I stayed in their house for 5 days for this time. And what I was most excited at for this visit was meeting with the cousin's brothers who both converted to Islam and got married. It's very interesting isn't it? The younger cousins were stabilizing their life while I'm literally vagabonding. This state gave me a little doubt about my life but I should stop questioning as they live in a different culture. Anyway, I'll settle down when the time comes.
We got together at the auntie's house and ate Korean BBQ for dinner. Korean BBQ with Muslim people, it was such a rare occasion wasn't it? As I had a prejudice that they are quite ascetic, it was a sort of big surprise that they can eat the BBQ. As a matter of fact, they can't eat only pork which is forbidden by the religious discipline. After eating the dinner we played Monopoly. Though they are all married, we five are in the same age group and naturally we were so excited about the game. Despite the religious difference, I believe we share the fundamental pleasure anyway. Nevertheless, there was an interesting moment when everyone suddenly left me to another room for the prayers although the game had been heating up. Mind you, I don't have any negative feelings about this. Just, it stimulated my thought towards the cultural differences.
Touring around the City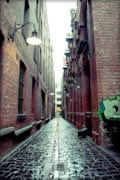 It was only 5 days I stayed in Melbourne and time went by very quickly when I met friends and wrote blog entries. But in spite of the shortage of time, I managed to tour around the city just for one day and realised again how beautiful Melbourne is. I especially like the paved passages with many stylish cafes and the China town with a huge Chinese shrine symbol. I like the mixture of the cultures in Australia. Besides this, I challenged my luck by going to the casino but lost nearly $100. Yeah, I'm not a person who gets rich quick. I'd rather accumulate it slowly.
The Real IMAX
One more notable thing I did in Melbourne was watching the sensational movie AVATAR at the real IMAX theatre. In Japan, we disappointingly don't have the real IMAX though we have some 3D theatres. Therefore, I'd been waiting for a chance to go a real one somewhere around the world and a friend of mine invited me in Melbourne. What's more, the IMAX theatre has got one of the biggest screens in the world and the movie was absolutely thrilling. Although I was tempted to watch it even in Bangkok and Hong Kong, all in all it was worth waiting for.