Wallpaper Calendar "Night Views from the World" September 2011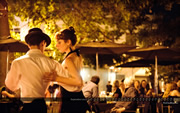 The wallpaper of this month is in fact one of my favourites from the trip, an outside tango show at Buenos Aires. The cinematic atmosphere was so beautiful that I felt like almost intoxicated with it.
By the way, September is my birthmonth. I was on the BA's first class flight with a glass of expensive champagne last year. What about this year? Probably at this rate, I'd just work normally and have a cake at the cafe nearby. In these days, I often go to cafe and have cakes at midnight, which makes me happy and relaxed.
Share this article
Tweet