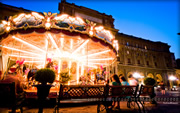 Well, it's November already.
For only one more update will take place on this series, I'm wondering for the next year. I'd like to choose an interesting theme for exhibiting my photos, but what is interesting anyway?
This photo was taken at Firenze on early summer 2010. Although the attires of people look like out of season, I found the atmosphere of the carousel stimulates my feeling towards the coming Christmas.