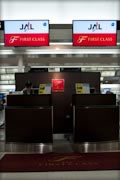 The limousine bus drove me to Narita Airport along the Tokyo high way at dawn. As it was a holiday season, I was worried about the traffic condition but the early morning on New Year eve doesn't cause any traffic jams and the bus arrived at Narita Airport Terminal 2 before 7 o'clock. Besides, few people were there and only a couple of them were waiting in front of the check in counters which hadn't opened yet. No sooner had I joined them than the counter opened and I started checking in.
Check in
JAL first class counter in Narita was indeed just a ordinary counter. While I heard some international airports have services which let customers sit on soft sofas and process the ticket, this time doesn't vary with the usual economy class counters. Well, it was only a short process to leave my luggage and check the passports and tickets and doesn't take long anyway. Incidentally, my check-in luggage had 23KG weight including the carry-on luggage of the laptop and the camera equipment, the total weight of my luggage was almost 30KG. I'm wondering how this figure will change hereafter. Actually as part of my luggage consists of souvenirs, the bag should become lighter as I give out these gifts.
JAL First Class Lounge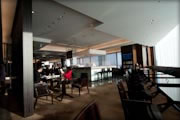 After crossing the passport control, the JAL first class lounge was in front of me and I entered there immediately. The truth to be told, it was my first experience of entering a lounge at the airport and my heart was beating faster than usual. I may be flattering myself but it's first class indeed. I wouldn't have come there unless I'd used such a tricky technique.
Nevertheless the first word uttered from my mouth was 'Hmm.' Though they are well furnished and the airplanes seen though the windows are beautiful, I would say they lacked a sort of premium atmosphere which rouses your inspiration. I know I was comparing with Park Hyatt which is an embodiment of premiums but the lounge should be on a par with the hotel. Taking a seat at the business centre and updating the blog with a light meal, the boarding time had come much earlier than I felt. I went for the boarding gate making final phone calls in Japan.
Bording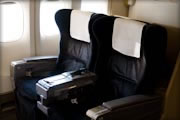 And at last, I was on board. The priority lane induces a bit of my feeling of superiority. Again however, the seat disappointed me because its type was way too old style. Even though I had known the fact that the old type would be used on the flight, I couldn't be shocked as I was thinking about cutting edge first class seats. Well, I can use them later. Typically, the flight from London to Sydney will be Qantas A380's first class. This must be the real one.
Actually, despite the previous complaint, the seat was way better than normal economy seats. I had 4 windows by my full flat seat. Since it was a day time flight, I didn't recline it completely but it was a nice refreshing nap on the seat.
In flight services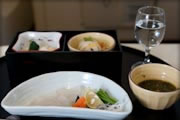 Due to the lack of sleep and a little jet sickness, I decided to have a light weight Japanese course. What is more, since there will be fewer chances to eat a decent Japanese meal as of now, it was a good chance to eat the one when it's possible. The theme was Winter Taste of Japan and there are many dishes of Fugu fish! I guess, actually I don't have many experiences to eat formal Japanese dishes but anyway the meal was excellent. Besides, the Japanese Sake which went really well with Sashimi added extra enjoyment.
I still didn't find any feelings of leaving from Japan maybe because of the atmosphere made by a Japanese company JAL. I know a person who always uses non Japanese flight companies when he goes to abroad because this prompts his feelings towards abroad. Surely my flight kept a totally Japanese atmosphere. Incidentally, we had 3 stewardesses for 8 passengers in first class. Whenever I asked them something, they responded very politely. Although we see a lot of negative news about JAL's business in these days, I realised their service for the top level remained unsurpassed.
Arrival
After the 7 hour flight, the airplane arrived at Suvarnabhumi International Airport. On Arrival it was very hot and humid as if I'm in a soft sauna. Though it's actually winter, it is definitely hotter than Japanese summer. I used a taxi for the accommodation and the strange view through the window made me realise that I at last had come to a different country.