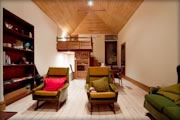 During my visit in Perth for two weeks, I stayed with my best friend, Johann. He is just one year older than me but a great entrepreneur as he started his business after graduating university and now owns three shops in Perth city. He's come to Tokyo a couple of times and stayed at my place as well. When I arrived in Perth, he was actually on a business trip to Korea but generously offered me the use of his room. Unexpectedly, I got a chance to live in Perth by myself.
No sooner had I arrived at his room accompanied by the other friends than a big surprise hit me. Though I actually anticipated this, the room had absolutely excellent taste. It was a two storey town house and going up from the first floor's kitchen, a spacious living room with a loft bed was there. The Northern European taste furniture went well with bare wood floorings and ceilings. It was like an show room from an interior magazine. Oh, I should have a nice room like this in Tokyo when he comes to Tokyo next time.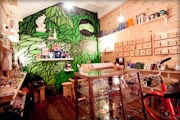 Johann's shop is named Pigeonhole and sells various design products imported by him from all over the world. I've never seen this quality of selection in Perth. Maybe the shops can thrive even in Tokyo. Although they are not big stores, you would find something new at every visit as they have many routes to import the products. One shop is located at London Court, a famous traditional shopping mall in Perth. You should visit there when you have a chance.
After Johann's return to Australia, we went out to a new bar in Perth. Drinking and relaxing at a open terrace bar, we chatted about design and business. I appreciate our relationship as we can talk about even some serious themes with ease. And after coming back to the house, we started working again on the couch. I had to write some on this blog and so did he to respond some emails. Taking care of each other but not interfering, two geeks were sitting together and working silently. It would've been a very bizarre scene if someone had seen from the outside.
I guess, our characteristics are very similar. Although it was initially just a coincidence to meet him, I'm very grateful for this serendipity. I' value this nice friendship and hope to keep in touch with him in the future.