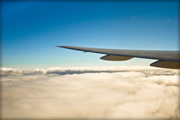 Round the world trip, my dream. Especially, since 2005 when I'd been to Australia for studying English and learnt the joy of the life in abroad, the desire towards the new trip has been growing stronger and stronger. And finally, it's time to set up the journey. At the very last day of 2009, I'm going on a round the world trip with my huge backpack. What is more, I'd add one more stimulating concept for this as a round the world backpacking is no longer rare in these days. What about using first class flights?
It's too expensive
Flights on first class seats, it's a dream world isn't it? Comfortable full-flat seats, delicious foods at 30000 feet, luxurious lounges, as an ordinary person who basically chooses the cheapest seat, I yarned for sitting on those seats whenever the obvious differences confront me. Were I to purchase a real first class seat however, it would actually set me back ridiculously high price. For instance, JAL website estimated $US20,000 .approx for a round trip flight between Narita(Tokyo) and NY although the very same routes but economy and from local travel agencies would cost less than $US1,000. 20 times price difference is discouraging enough to surrender the wish even if there could be absolutely high standard services.
A bypass!?
Well, it's only a dream world where I might possibly get in if I keep earning mileages using credit cards for some 5 years. I had been thinking like this but did notice one significant fact. Round the World Tickets would give us a cheaper alternative access to the upper class seats. [Round the World Tickets : a special ticket from air line alliances such as One World and Star Alliance. I'll mention the detail later. ] I did know the existence of this ticket but the new founding is that actually their price range of upper classes are 'relatively' affordable. For example, One World Global Explorer (5 continents) which I'm going to use have these settings, First:$US13,000, Economy:$US4,500; in other words, the difference is less than 3 times only. Besides some tax and fuel fee which are basically the same in all classes are required and this makes the difference even smaller. Incidentally, if I use a long haul flight like between Sydney and London, the price of the normal single flight is almost equivalent to the whole price of the RTW ticket. I reckon it's quite reasonable.
It's a chance to get into.
It is indeed my dream trip. Even though 80K is such a big deal, considering that using RTW tickets is a precondition and 16 times luxurious flights are very seductive, I decided to go for this. (Mind you, this figure is very theoretical. In actuality, quite a few flights are operating without first class and in this case I'm going to use business class. Anyway, it should be far much better than economy.) But I'm not going on a full package of the frist class trip including accommodation and meals. I'm not that rich unfortunately. Instead of staying at Ritz and Hyatt, I'll basically use domitory rooms at budget hostels. Therefore, it's First Class Backpacker. I'm going to do real backpacking and this should be the joy of travels indeed. Maybe I'll write about it later.
Well then,
This is the start of an unusual trip "First Class Backpacker". Stay updated with this blog. I'll post some preparataion topics before departure and of course, travelogues with a bunch of photos at each sites during the trip. Dear friends from all over the world, I'm looking forward to seeing you at your countries.
Share this article
Tweet