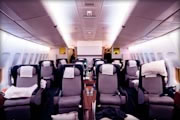 Sydney to Dubai via London. 24 hours from Sydney to London, 15 hours at London and 7 hours from London to Dubai. Considering the other waiting times, it was a huge trip taking more than 48 hours. Although everybody told me something wrong with this itinerary, for me this was the one of the chief event of "first class backpacker". The 2 nights & 3 days trip is long enough to saver what First Class is. (This entry is continued from the previous entry)
Heathrow British Airways Concorde Room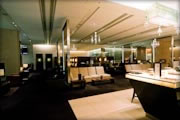 T5 is the newest terminal of Heathrow Airport and at near the normal first class lounge, there is a very special room named Concorde Room which only first class users can enter. Like Sydney Qantas first class lounge I stayed before, first class lounges are usually accessible to premium mileage members as well. However, this Concorde Room is different. Only those who have the actual flight ticket of BA first can enter the room. My eyebrows were raised at the very beginning when a staff asked me for the first drink. She said "Would you care for any drinks?" Who would ever talk to me such a ultimate polite term!?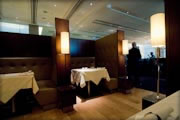 In fact the interior was absolutely gorgeous. The lounge in Sydney was simple and modern but on the other hand here in London is classic and luxury. Many chandeliers are dangling from the ceilings and even a set of fireplaces is there though the fire is just a dummy. I thought this is the Great Britain. What's more, there is a sort of half private space at the restaurant which can be on a par with luxurious hotels' ones. Yet, their taste was sadly so-so. Indeed it was still nice but far below than my expectation caused by this premium atmosphere. I know I'm expecting bit too much but honestly they could improve the quality of the foods in order to be equal to the quality of the space.
London to Dubai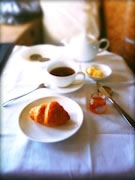 I stayed Concorde Room for 13 hours drinking fresh juice, organising the photos and wiring the blog entries. When I became slightly bored with the room, the boarding time had come. The flight departed at 21:30 with London time which means very early morning with Sydney time. Therefore I was already half asleep as if I stayed up until morning. What's more the arrival time was 9:30 with Dubai time but 4:30 with London time and 15:30 with Sydney time. So confused was my body that I went to bed without eating any in-flight meals except for a glass of white wine. As a result, I woke up very easily in the next morning and could eat breakfast in the airplane. This is my first time to eat a decent in-flight breakfast indeed.
Entrance to Dubai
It is said that to enter Dubai is very easy. They don't require visa to Japanese and in fact just showing the address of the accommodation, I got a stamp at the passport control. However at the custom, an unanticipated trap was there. I had nothing to declare and tried to go through the gate but an officer stopped me and dragged me to the table nearby. He asked me, "What have you got in your backpack?" I answered "Just my personal belongings for daily usage." "Well, can we open and check the back", responded the officer. From then taking more than an hour, I had to explain all the things in the bags one by one. What's more, their English is not really good, for instance they don't understand "Medicines for hay fever" and I had to use a lot of body languages. Eventually, I was forced to enter a small room for a body check and all the procedures have done.
Observing the gate carefully, I found that mainly people who rear a backpack were caught there. Well, this is not the country the budget backpackers easily call in. Though I gently cooperated with them as they seemed to just obey their mission, not to have any malicious thought I hope this kind of thing would never happen again.