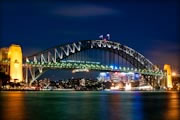 Seven days I stayed in Sydney and restarted the life as a backpacker in a hostel as I had been staying friends' houses at each places for a month. However, I just did sightseeing only one of seven days because the hostel was bit too far from the city. I had to switch my round the world ticket to an e-ticket and went to JAL which is located in a very central area. Using this opportunity, I also visited the Harbour Bridge and the Opera House, amongst other tourist spots and soot some photos. Apart from the day, I spent my time just relaxing like writing journals at cafes and cooking steaks by myself.
In fact, the highlighted event at Sydney was the flight to Dubai via London. Although it was possible to fly to Dubai directly, the flight between Sydney and London is one of the longest haul of the world. It is almost a 24 hour flight and what's more it is operated by A380 well known as the newest and biggest, most luxurious aircraft. This should be the best flight to savour what the first class is. Though this single flight would have cost more than 13,000AUD if I'd purchased with a full-fare rate, the round the world ticket allowed me to book the flight as just one segment of 16 allowances. It's a damn good deal indeed.
Sydney Qantas First Class Lounge
I'd have preferred staying at the lounge than the cheap hostel and checked out of the hostel early but I made too much haste. As the check-in luggage procedure was available 4 hours ahead of the boarding and I arrived 2 hours earlier than start, I had to wait on the couch in front of the counter. Anyways, the soft couch was much more comfortable than the hard bench at the hostel.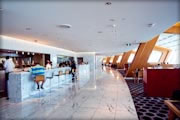 At length, the lounge's gate was in front of me. As Sydney is their home airport, Qantas puts the best effort on this lounge. The ceilings are very high and the spacious room makes an absolutely luxurious atmosphere. Yet the interior design keeps a very simple and modern Australian style. I actually used some Qantas and in general I like their sense of design styles. When I sat a couch, one of the staff walked by me and asked "What would you like to drink?" For the time being, I ordered fresh juice and started browsing the internet with my iPhone. There are many airplanes going and coming in front of me through huge bright windows.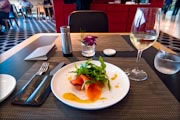 As it was lunch time, I decided to eat meals as well. Though the lounge has some self service snack counters, basically we order from the menu. Thanks to its descent kitchen, they have quite nice range of menus from a daily full course to a la carte plates and the quality is indeed very high, probably higher than in-flight meals. And of course all meals and drinks are free of charge for the visitors. Though in terms of wine lists, in-flight menus of first class are better than the lounge, as presumably the lounge is accessible for not only first class flyers but also high ranked mileage members, it can be a good idea to eat good amount of meals on the ground. The boarding time came when I was eating ice cream after having a shower.
QF44 Sydney to London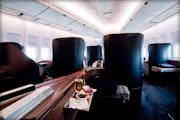 With a quick glance of the aircraft I found strangely an old Boeing moored there. The interior was identically the same as the one I used before from Hong Kong. I asked CA where A380 was and the answer was "it's working in Melbourne today". Uh, when I booked the ticket, I definitely saw the letter of "A380" on the display. Well it was long time and half a year ago and the schedule must have been changed without any notice. We can't trust flight companies for such a long scheme. Of course the old Boeing which had full flat seats and a lot of private spaces looked amazing. Nevertheless, I couldn't stop myself feeling disappointed with it as I had used it already and anticipated a far better one. Maybe someday I should try A380 on my own.
However, the wine list more than consoled me. As I wrote here often, I have lived in Australia for a year and got some knowledge about Australian wines. And I found a superb item which wiped out my discontent. "Leeuwin Estate Art Series Chardonnay" This is the best Western Australian white wine which once won a blind tasting competition of the world, surpassing other renowned world class wines. I didn't find any unpleasant smells and it's very easy to drink. Last time, from Hong Kong to Sydney, I had only a few hours to enjoy in-flight meals but for this occasion literally a whole day was available. Paying attention to not drinking too much, I fully relished the beautiful meals and the wine.
To be continued to Dubai.