[day142] Tel Aviv Night Out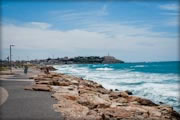 Come to think about an Israeli city, Jerusalem is arguably the most famous one, isn't it? In fact I'd been thinking to go to Jerusalem directly from the Tel Aviv airport but changed my mind to visit at Tel Aviv city at first for interviewing a top Israeli web studio "INKOD HYPERA" due to the Adobe's article I was writing at the time.
Tel Aviv is a modern city developed by Jews in their early settlement days and it's the central hub of the Israeli economy now. Though the suburban parts have a distinctive gray atmosphere being similar to the other Middle Eastern countries, down town has some high buildings and it doesn't look different from the other Western developed cities, except for the signs written in Hebrew. Besides, the Mediterranean beach cleanly maintained and there are of course many beautiful girls wearing bikinis.
Well, actually this situation, the bikini girls are everywhere on the beach, merits for girls more than just a feast for men's eyes. It was especially noticeable at Egypt and Jordan that Muslim males are prone to make bad sexual harassments towards foreign girls as they are tightly restricted approaching any Muslim ladies but free to contact with non Muslim girls. (Although the Middle East is a great destination for travelling, every female traveller should aware of this fact.) On the other hand, Israelis are much more familiar with girls and wouldn't dare unpleasant things.
Well, let's get back the point, as Tel Aviv is quite a modernised city and the prices are also higher than the other surrounding countries, presumably the same as or bit higher than Istanbul. For instance, a dorm room costs about 10-15 euro per night. It's a huge leap from Egypt and Jordan where you would get even change from 5 euro. However, from another point of view, it could be said that you can receive high quality of services as good as the other Western countries with reasonable prices.
In fact, I went to a bar located at the top of a skyscraper, drank 2 glasses of cocktails and the final bill was 100ILS(28USD). If it had been the bar at Tokyo's high building, this amount would've been just for a cover charge. Besides, due to the tipping system the bartender was very hospitable. After a little chat, she gave me a small plate of olives. Well, I need to enjoy myself freely at this kind of stylish places. Actually, rarely had I gone for drinking alone in Tokyo but it seems like I acquired a new habit during this trip.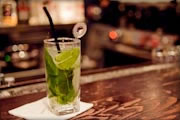 Besides, speaking about the night life in Tel Aviv I have to mention about the clubbing that Ilan, the founder of INKOD, took me around. Fridays and Saturdays in Israel are notorious among foreign travellers for the Sabbath day, on which most of shops close and public transportations got polarised. Nevertheless, according to Ilan, for the young local people living there the Sabbath is just a weekend and therefore clubs get their peaks on the Sabbath. I'd never heard of this kind of story. "I can show you the real Tel Aviv, Satoshi", accepting his generous offer, we decided to go out on the next Saturday.
The first place was a lounge club which was integrated with a balcony of a hotel located along the coast. After passing through the strict security gate, there were actually a lot of young people chatting, drinking and dancing. Coincidentally, the day was the final of European League Soccer and the DJ was playing fashionable tunes in front of the huge screen where the soccer image was being projected. It was completely opposite from the other part of the city occupied by silence.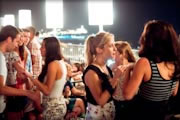 What's more, miraculously (beautiful!) girls greatly outnumbered boys at the club. I presumed that because of the mixture of Jewish blood from all over the world, the number of attractive people grew but it was a mystery how come so many. Though I didn't dare anything as I was planning to go to Jerusalem on the very next day, I recommend male travellers visiting Tel Aviv going to this club. I assure you it's a sort of paradise.
The second club was situated at the harbour area. In the open air area, the atmosphere was similar to the previous one; many people were shooting the breeze and enjoying the night breeze. But there's a building leaking loud sounds in the back area. After entering the architecture, it turned out a typical dance floor with frequent flashing lights and a revolving mirror ball. Being packed like sardines, everyone was moving their body as they liked.
Speaking about myself, though I'm not good at dancing, closing my eyes and giving way to the frenzied rhythm I can feel like I'm the last person left in this world. Nobody cares about me at all though many people were dancing around me. I love this isolated feeing.
As such, thanks to the new friend in Tel Aviv, I could enjoy the local life there. Being a traveller, it's always nice to have local tips which take me to any occasions ordinarily travellers can't get in.
Share this article
Tweet