[day48] Dubai's Prosperity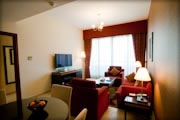 After the very inquisitive customs, I at length managed to enter Dubai. Incidentally, since there are few cheap hostels in Dubai according to hostelworld, I had to use a middle class hotel which set me back about 100 USD per night. There were in fact slightly cheaper options if I'd tried harder but it would've cost more than my budget anyway. Therefore only for this occasion I allowed myself to stay in a decent hotel named "Xclusive Hotel Apartments" which received many good reviews at hotels.com. This hotel is as well used for a sort of service apartment for long staying visitors and its spec was awesome. A suite room with a king size bed could be the best hotel of this trip. What's more they provided free wi-fi and airport transportation too. Considering these facts and Dubai's market, I would say their price was very reasonable. Nevertheless, it was not meant for backpackers, certainly.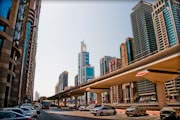 Well, I arrived at Dubai but as always had no ideas what to do there. Questioned to the front desk about any interesting places around the area, they suggested going to Dubai Mall and I made a go for it. Though Dubai's prices are as high as Japan's, the taxi fare was not too bad. It cost about 20 AED (6 USD approx.) for 20 minutes driving. The buildings seen through the taxi's window looked like the world from Sim City.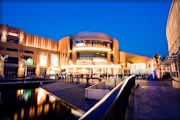 Dubai Mall is the biggest shopping mall in Dubai and it seemed to me looking similar to some Japanese top level shopping complex like Roppongi Hills. However the scale of Dubai Mall is much grander than the Japanese ones. Walking through the whole complex in a day would be very challenging as it has movie theatres, an ice skating rink and even an aquarium. Although "Dubai Shock" is a buzz word in these days, the economic situation in the mall looked good and there are so many visitors from all over the world as well as local Arabic people.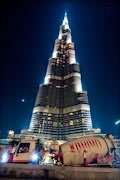 Once I went out from the mall, an astoundingly high building appeared in my sight. Burj Khalifa (which used to called Burj Dubai during the construction) is by far the tallest building of the world. Though it has been completed the main construction, the working at outskirts were still in progress. The building has more than 800 meter height with 200 floors and in other words it is three times higher than Tokyo Midtown which is the highest building in Tokyo. My iPhone camera finally couldn't capture the whole building. However, I really enjoyed photo shooting since I'd expected this situation and brought a tripod with wide angle lenses. Although I had to concentrate hard not to accidentally capture any passersby, I suppose I did take some nice ones.
By the way, I was actually thinking about the politics in Dubai. Dubai is the one of United Arab Emirates; namely it is a country of Arabian Kings. I had to rethink about autocracy even though I studied at Japanese education system which worships democracy. In a way, autocracy actually has its merit.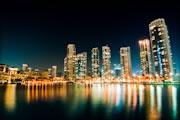 The kings at Middle East are born as super rich and brought up with kingcraft educations. As they are always thinking about how to make their countries, which are literary owned by the kings, more prosperous, their visions towards the future of the countries are very clear. Dubai is making a big airport and office complexes in order to be a centre of the international business and Abu Dhabi the chief of UAE has been investing an astronomical amount of money into clean energy technologies for the post oil era. They are totally different from the politicians selected by popularity polls, holding back each other and ending up with cheap lavishing politics. It is said that too many cooks spoil the broth and maybe a strong leadership could make things better.
I know these aggressive investments of the Middle East countries are based on the rich oil money but maybe we can still learn a lot of things from them.
Share this article
Tweet