[day7] Ayutthaya Short Trip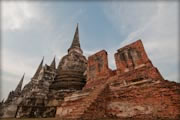 On this day, I decided to go to Ayutthaya which was reasonably close to Bangkok and famous for the ancient temples. Although there were some one day tours from Bangkok city, according to my research, I could hire a tuku-tuku and make a sort of private tour around the area. The market price of it was 200 baht per hour. Considering I was going to stay there for a half day, it would cost 800 baht. As I was travelling alone, the total cost of the private trip is not really different from the price tag of an organised tour which was about 1000 baht but I rather chose the private trip in favour of the flexibility and spontaneity. The train set off from Bangkok Central train station.
Local Train to Ayutthaya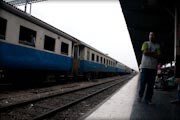 There were two types of trains available: an express train with a light meal which takes an hour to Ayutthaya and cost 400 baht for a single trip or a local train which takes about 2 hours and cost 15. Without any doubts, I chose local. I believe, local trains would be more interesting and thought provoking if we travel only a few hours as we can legally intrude on local people's life on the train and I had felt the same thing when I'd been to the local market. The train went through a sort of slum area and the view from the window was gradually changing to rural landscapes. I saw people living in small huts which looked like garbage bins and swimming in a black colour river. An old man, who in fact had lost one of his legs, was mumbling something in front of me on the train. I had known there were a lot of people like them while I'm travelling as a First Class Backpacker. I didn't want to make a simple donation with cheap instant compassion but wished there would be no poverty in the world. But meanwhile I also wondered how many people can actually live upon this planet.
Negotiation for Tuku-Tuku
While these complicated ideas had been occupying my thoughts, the train had arrived at a big station and many people got off from the train. I asked a lady next to me 'Ayutthaya?' and she simply nodded. Yes, it was Ayutthaya station. Once I walked into the street from the station, a group of toutes approached me. Every 3 meters, they tried to catch me for their tuku-tuku. However, I had information that it was better to go to the opposite side of the river by ferry and I could make a negotiation more smoothly there. I just ignored the toutes and walked for while, I found a tuku-tuku driver and tried to talk to him.
"I want to go to some temples." "Oh, I can go to these places." The driver showed off some postcards to me. He knew how to deal with tourists and I was excited at the photos of the old temples. "How much?" "200 baht per hour. It's a rule." I showed him my watch and suggested, "What about 600 until 5." At the time, the watch showed 1:15. In other words, I asked an extra of 45 minutes. During the conversation, the other tuku-tuku drivers had been coming by and the driver who hadn't wanted to miss a customer led me on the backseat of his tuku-tuku and started driving. After a few minutes we started negotiation again. "OK, 300 baht per hour." "What!? You told me 200 just before!" Well, it was very hard to tolerate their ripping off attitudes. "OK, I get off. Bye-bye." I tried to get up from the seat. "Oh, sorry 200 actually" I was sure he didn't feel sorry at all. "Well, what about 600 until 5" "Uh, yes, OK. I take you to the station at 5 and 600 baht" The negotiation finished sooner than I expected. I guess it was just 20% off and hit a reasonable line for him.
Upgraded?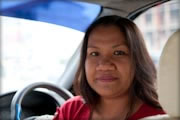 The tuku-tuku which had only one passenger started driving again on the country road. The seat was simple and stiff. The roof was just made as a cover from the sunshine. However the breeze which hit my cheeks was absolutely delightful. Humming a song I was pondering on a Japanese road movie when suddenly the tuku-tuku stopped at a weird spot. The driver's wife got out from the passenger seat and walked into a normal car. The driver told me that I should go with his wife in the car because he was worried about the weather. It was actually cloudy weather but I suspected he wanted to make use of his tuku-tuku. I was only one passenger on the tuku-tuku which was capable of loading 6 people. He must have intended to go to another business afterwards. Confirming that I would pay only 600 whichever the vehicle was, I got into the car.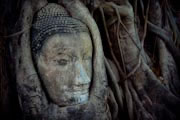 The tour was well arranged by the wife. She at first showed me one of the postcards on which was drawn the first destination and ignited the engine. After 5 minutes of driving, we arrived at the first temple. She would wait for me and what I needed to do was simply come back to her place after I finished the sightseeing. It was a really easy trip indeed. By chance I saw a group of tourists organised by a Japanese tour agency and they seemed to have a very precise schedule. On the other hand I was totally flexible as long as I cared about the return trip train. What is more, after the walking under the strong sunshine, an air-conditioned Mitsubishi Lancer was awaiting for me. The backseat on a decent car which had got cushion seats was comfortable enough. I actually appreciated the strange upgrade.
Impressions of Ayutthaya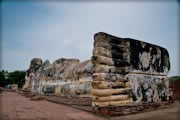 By the way, I almost forgot to mention about my impression of the temples. In fact it was the most impressive place of my stay in Thailand. There were not too many tourists around and I could observe the temples thoroughly. And most importantly, the scenery was absolutely incredible. I felt like as if I was in a different world even though Ayutthaya was only 2 hours away from Bangkok. Besides, if you know "tiger shot (not from Tiger Woods)" the reclining Buddha would make you mumbling the word. It was a very funny place.
Trap Again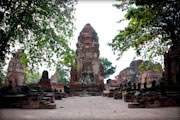 Nevertheless, a huge trap was waiting at the end of the day. When I was looking around an old deserted temple which had no visitors apart from me, I heard some dogs barking. Actually, they were running after me! No joking, Thai wild dogs tried to attack me. I felt a real danger about my life and dashed to a shop at the entrance. The sales lady managed to get rid of the dogs but my camera hit the ground severely as I was utterly in hurry. Seriously, be careful about dogs in Thailand. They basically don't have leashes. It was a really traumatic moment similar to an incident that occurred many years ago. A little consolation was that my D300 still works well even with some scratches from the accident.
Share this article
Tweet