Lisbon, my old home country?
Well, it's time I rebooted this travelogue, isn't it?I'm going to write about the trip in Europe starting from this entry.
Lisbon, the capital of Portugal is the first destination. I guess it's bit too sudden though, my grandfather is suspected of inheriting Portuguese blood; he could be a quarter Portuguese. In fact, he is always mistaken for an European when he goes abroad as he's got gray eyes which are quite unusual as a Japanese and his attitude is not really ordinary Japanese. Thinking about myself inheriting a little bit of Portuguese blood too, I was deeply moved by being in this country. As far as I know, I'm the very first one of my family members coming here.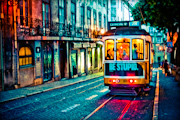 Lisbon is called the "City of the Seven Hills" and is famous for trams running through narrow slopes. Once you get used to it, the tram is quite useful for touring around the city as it's cheap and runs frequently. Nevertheless, it was not really safe in my case. When I was waiting for a tram inthe daytime, a local guy, showing a big map and speaking in poor English, asked directions from me who undoubtedly looked like a tourist. Being confused with this bizarre situation, I at first checked the map but soon realized that the hand of guy standing at the opposite side was moving suspiciously. Hell, he must have been trying to open my bag. A pickpocket team presumably they were. Waving my arms furiously I stared the guy and he seemed to give up butwe couldn't be careful enough in Europe since the possibility of being involved with such crimes like pickpocket, mugging and soon is much worse in Europe than the Middle East (and probably South America is the worst.)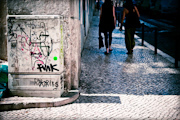 In order to protect myself from pickpockets, I mostly used breast pockets. My wallet was compact enough to fit in the pocket and it was too hard to miss the wallet picked from there. Alternatively, holding the actual items tightly was quite effective. Although some people use special under clothes to hide their valuables, I didn't really care about exposing mine for a short time. Anyway, I was a conspicuous tourist so an obvious target for mugging. Rather than wearing unstylish garments, I preferred using convenient breast pockets.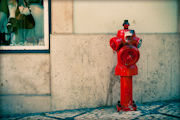 Well, let's get back to the point. Lisbon was such a wonderful city that I can forget such a small accident. Especially for shooting street snaps, it was one of the best moments of this whole trip. Hydrants, street lights, laundries, any items on the streets were somehow very photogenic and I really enjoyed shooting them. Besides, unlike the Middle East, people passing by were used to cameras and didn't care about me photographing on the streets. I hadn't been able to take photos so freely for a long time.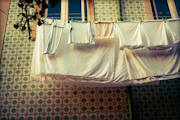 What's more, I liked the meals in Lisbon as this city had tasty seafood from the local port. Therefore I always had a seafood plate except for the very first day when I went for pork, (It had been literally impossible to find pork for a few month when I was in the Middle East). I had never imagined I could eat such a great grilled fish with salt which gets Japanese's heart. Besides, the price of seafood was incredibly cheap, almost the same or lower than meat though seafood at restaurants was usually too pricy for budget backpackers. Actually, the prices in Portugal were quite reasonable compared to the other Western European countries, and thanks to the fact I was so happy to savour tasty meals(with cold beer, of course).
I found that I can easily fit in well in Europe. Even though the Middle East had been a super interesting travel destination, Europe was more like a place for relaxing. Perhaps my Latin blood might have helped to me to fit in. Anyway the trip around whole of Europe was promising to be entertaining.
Share this article
Tweet