Wallpaper Calendar "Night Views from the World" July 2011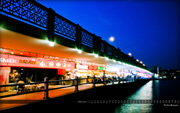 Although it's bit late for the beginning of the month, the calendar of this month is Galata Bridge which connects Istanbul's old and new town. The colour of the summer is its navy blue sky.
B.T.W, I've moved out from the accommodation which I spend six months since coming back to Japan. Upgrading from a typical cheap, dirty and compact guest house, which was in fact by far the most messy place of my round the world trip experience, the new accommodation has a decent private room and a single bed. Though it's also a guest house style, the new place more than enough to my needs.
Share this article
Tweet