About the Round the World Ticket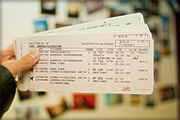 As I mentioned at the previous post, this is the story about the system of round the world tickets. Although it's easy to say "just google it!", I'll summarise this topic in for reference purposes for the benefit of later posts. (The information bellow is personally collected by Satoshi Onoda. Please refer the official documents when you make a final judgement.)
Round the world tickets are special flight tickets from airline alliances. Their usage rules are a little bit complicated but by regarding them as a round the world game, it could be really enjoyable to plan. For now, I'd like to make a comparison between the tickets from oneworld and Star Alliance, both of which have Japanese airline companies as board members. (Incidentally, oneworld has two kinds of round the world tickets; oneworld Explorer with which you can fly by oneworld board member companies only and Global Explorer with which you can fly by board members and some none-oneworld companies. This time, oneworld Explorer was taken into consideration.)
Common Facts
You can make up to 15 stopovers in a year, in other words you can fly up to 16 times during the period.
This number is counted by each flight code. For instance, providing you are flying to Sao Paulo from Narita, which is a very long distance trip, you have a couple of choices for routing. JL0048 which is a direct flight from Narita to Sao Paulo is counted as a single flight even though it actually makes a brief stop at New York. While the combination of JL5014 (from Narita to New York) and AA0951 (from New York to Sao Paulo) is counted as 2 flights although it follows the same route as the first one. Therefore, you should use direct flights as much as possible.
Moreover, a course like Narita to Perth by airplane, Perth to Sydney by train which is organised by yourself and Perth to London by airplane is counted as three segments. So called "a surface section" which means a section you organise the transportation by yourself is permitted but it wastes your right for a flight.
Besides these, there are restrictions on the minimum number of the flights and days of the trip but they are just meaningless for longtime travellers.
You must make a route which crosses the Pacific Ocean and the Atlantic Ocean only one time each and returns to the original country. Besides you cannot go back to the continent which you have visited except for the return home.
This makes a "round the world trip" horizontally. There are some differences about the prohibition of reverse trips between oneworld and Star Alliance.
You can book flights with open status with a fixed route.
The departure date must be fixed but the others can remain open. Therefore, what you need do at the very first is decide the exact course and departure date. Besides with a certain amount of charge, you could make an amendment to the course as well. Nevertheless, leaving the flights open is not really recommended. Read the next section for the details.
Its booking class differs from the ones of full-fare bookings.
There are special reservation classes for the round the world tickets and although there are availabilities for full-fare rates, the confirmation of the booking is not always guaranteed. Thus it is risky to keep the flights open and you should fix the date as soon as possible. Otherwise you should set tentative dates and modify them later as the schedule can be changed flexibly.
Its price is way cheaper than the total amount of individual flights.
Despite this level of flexibility, their economy tickets are available from $US 3,000 approx. and even first is only about $US 12,000. Some taxes and charges will be added with the rate of the registration date though.
Features of oneworld's Round the World Ticket
Its price varies from the number of continents you will visit.
You can choose from 4-6 continents and there are flat rates for other factors.
It has advantages in Australia, Central and South America.
In spite of the fact that oneworld is actually smaller than Star Alliance, the leading airline companies of those areas Qantas(Australia), Lan(South America), and Mexicana(Mexico) are board members of oneworld and the rival is not as strong as them there.
Its rules are bit too complicated.
As there are restrictions for reverse trips and maximum stops at each continent, you must literally study the rules.
The features of Star Alliance's ticket
Its price varies from the total distance of the flights.
With the maximum plan you can fly up to 39,000 miles.
There are more destinations you can fly.
In terms of the size and the number of daily flights, Star Alliance is more than double oneworld and consequently the number of destinations surpasses its rival.
Its rules are relatively simple and clear.
Basically, you must comply with the mileage restriction and fundamental rules of the round the world ticket only. It's much easier than oneworld Explorer.
Phew, what a long summary! Did you read everything? Actually, I omitted a lot of tiny details but still there's this much. You need to get used to the rules when you plan to travel with round the world tickets. For more information, there are very useful online planners at both of oneworld and Star Alliance's web site. Even if you don't have an actual plan for the trip it would be fun to think over your dream trip, wouldn't it?
And what I bought is,
All told, I bought oneworld Explorer 5 continents plan because it doesn't have the mileage restriction.
I have a primary condition of using first class flights and looked for the most suitable ticket. And as a matter of fact the number of flights which have first class seats is not really big. Most of the short and middle distance flights have business and economy class seats only and in this case I'll get an automatic downgrade even if I'm eligible to sit in a first class seat. That is to say, in order to take full advantage of the first class ticket, I should use long distance flights as often as possible.
However, the total number of miles would surge dramatically if I used so many long distance flights. For example, with only the single flight of Narita and Sao Paulo, which I pointed out before, taking more than 10,000 miles. Considering the fact that the maximum plan of Star Alliance allows me to fly 39,000 miles, the figure seems bit unreliable to complete the trip. Actually, there are more destinations available with Star Alliance but I'll use the flights to major cities and tour around the surrounding areas by independent travel. So it shouldn't be a big problem.
Generally speaking, I believe the business class tickets are the best to buy costwise. There is a huge gap between economy and business. It should be comfortable enough on the business class seats and lounges. You'll get more mileage and baggage space. I would definitely recommend getting business class seats for the round the world trip if I'm asked to give advice.
Nevertheless, for me who is fascinated by the catchy concept of the first class backpacker the price difference was almost nothing. The additional cost: $4,000; invaluable experiences: priceless.
Lastly, the route I fixed has more than 66,000 mile with 16 flights. As the diameter of the earth is about 24,000 miles, I'll fly almost three times round the world! I'll present this incredible course next time.
Share this article
Tweet