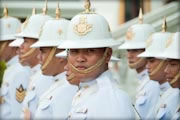 As I thought 'maybe I should go more sightseeing.', I decided walking around the famous temples nearby. There are plenty of view spots around my accommodation and I took a full day private walking tour for old temples.
Grand Palace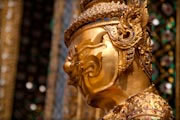 I firstly visited the Grand Palace since it looked like the most famous one. Although one strange guy said to me, 'Grand Palace not opened! From 13:00!' when the view of the building appeared in front of my sight, I simply ignored him. Actually, it was opene indeed. You must not believe strangers even if someone talks to you on a street. The entrance fee for the palace was 350 baht. Considering one full meal would cost 100 baht only, this is quite a nice deal but I had to admit that it was a tourist spot and paid it. Incidentally, they have a strict dress code at the Buddhist temples in Thailand. You won't be allowed to enter the site and have to rent a special costume if you expose your knees or shoulders. It should be safe to wear clothes which cover a reasonable area of your skin even if it's too hot outside.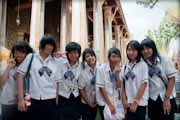 The Grand Palace was a classic tourist spot. Although the actual site was quite large, there were too many tourists, including myself, to observe the buildings and statues. Maybe I should have learnt more Thai history but honestly I couldn't really enjoy it there. Well, one interesting thing was a group of local girl students who talked to me in English. In Japan we have a custom like this. When you are on a school trip, you have to challenge your English by talking to foreigners to ask for a photo shoot with them. It was a funny moment as I didn't know this custom exists apart from Japan and I also asked to take a photo of them.
Wat Pho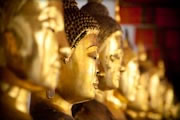 After the Grand Palace, I went to Wat Pho which is famous for the big Reclining Buddha. The entrance fee was a humble 50 baht. There were not many tourists except for around the Reclining Buddha, and I could look around the area with calm. Typically, the arrays of golden Buddha statues along the walls were absolutely magnificent. I was totally captivated with the mysterious view of the Buddha statues repeated again and again on the dark corridors. I'd prefer here to the Grand Palace as it's nicely quiet and many spots to see.
Wat Arun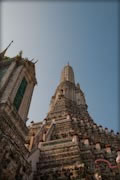 The next was Wat Arun which is famous for its steeple located on the other side of the river. You could use a tourist ship for some hundred baht but the owner of my accommodation recommended me using a local ferry which cost only 3 baht for a single trip. The information from honest local people is always appreciated. I could climb up to the steeple there but the steps were incredibly steep. I had to grip the handle very tightly and in fact found a sense of vertigo. Nevertheless, the view of the Bangkok old city from the middle of the steeple was spectacular and worth trying to climb up.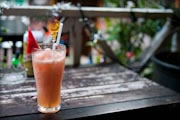 Well, I travelled through the main sightseeing spots in Bangkok pretty much in a day. But I had ample days in Thailand and I started considering going to Ayutthaya when I was eating dinner of Thai fried rice and fruit shake.