[day3] Shopping in Bangkok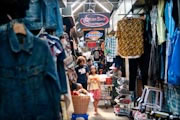 Although I made a big blunder on the first day, I must not be depressed for long because of such a stupid fraud. I should enjoy this dream trip. However, I in fact have no plans about what to do at each destination although I fixed the route of the whole trip already.
I asked the owner of the accommodation which places I should go in Bangkok and he told me the weekend market can be one. Besides, many local people would use the market as well as some foreigners and it should be different from Khao San where only backpackers come. Therefore, I decided to go to Chatuchak Weekend Market which is one of the biggest markets in Bangkok.
Concentrated Market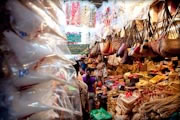 I was a bit afraid of the location because I heard it would be 10 minutes walking from the station to the market but once I arrived at the station, there were so many people around the area and they were walking to the same direction. I couldn't possibly lose my way if I just followed the crowd. The market that finally appeared in front of me was absolutely gigantic. From furniture to foods, lingerie to pets, there are literally all kinds of consumer goods available on the market which consisted of a bunch of narrow alleys and those alleys made the market like a huge maze. Although there were the ceilings overhead, I found beads of sweat forming on my back and forehead.
Price tags meant nothing at the market. Although they were already much cheaper compared to the ones in Japan and the other advanced countries, getting discounts from this stage is the real game. Negotiations were held in every place. I saw some foreigners who looked like buyers or similar sort of people were purchasing a lot of accessories from the stores. I also bought a pair of sandals which I'd forgotten to get in Japan. I think it would be a nice idea to get a complete set of items for the round the world trip in Bangkok unless you are particular about brands and quality.
Well Polished City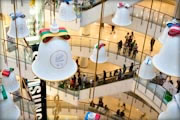 As I had enough walking around the market, I changed my way to the Bangkok central area which is indeed a big city. There are a lot of huge shopping malls. The ads of luxury hotels and brands indicated a certain number of wealthy people in the area. It was actually comfortable at the air conditioned shopping mall and totally different from the suffocating market where I'd been before. Looking at beautiful products displayed in spotlessly polished show windows, only Thai language letters proved that I was in the country at the moment.
And of course, there are many local people enjoying their shopping. Though a 100,000 baht Cartier watch didn't seem to be popular, a lot of home electrical appliances, which were actually more expensive than the ones in Japan due to the currency rate, sold well there.
While some people are trying to sell tiny 10 baht ornaments at crude hats, some others are purchasing 10,000 baht products at shining buildings. Although I don't believe in human rights of complete equality, I was forced to consider what the richness for people is during the way to the accommodation, after I actually saw the disparity.
Share this article
Tweet