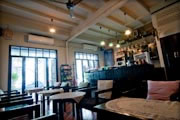 For finishing off the Bangkok series, I'd like to introduce a hostel which I stayed at for a week. Using hostelworld.com, I found Niras Bankoc-Boutique Hostel&Coffee which had got very high ratings from the user reviews. Besides, the fact that it had few bad reviews gave me an even better impression of them. And in reality, it was so comfortable to stay there and I would definitely come back if I had the chance to go to Bangkok again.
The hostel is located at the old city area which is surrounded by many temples and it took about 20 minutes to Khao San Street on foot. Actually there are a lot of hostels near Khao San but the area is very noisy as Khao San is a very busy street. On the other hand, Niras Bankoc is situated at a quiet local area and we wouldn't be bothered by any noises. However, the location could be only one minor point as well because so local is the hostel situated that no taxi drivers are able to find there. I suppose taxi drivers in Bangkok don't know about the roads well but anyway you must keep a guide map to the hostel which is provided at the reception.
I always use hostelworld.com to find hostels because it's actually not really popular in Japan. In other words few Japanese would stay at hostels from the site. As I expected, Niras Bankoc had visitors mainly from Europe and I rarely saw Asians there. This made me feel like I was in a foreign country. However, very surprisingly the owner of the hostel can speak Japanese reasonably well. According to him, he used live in Japan as an exchange student for a year. He said to me that he would like to have more Japanese visitors there.
In terms of the quality of the rooms, I totally agreed with the reviews. I stayed in a 4 bed dorm room which was not really big but I was sure the room was absolutely safe and clean. I guess most of the visitors, who prefer staying in a rather quiet hostel, are actually polite and friendly. And the building was spotlessly clean. In Thailand, where the idea of sanitation doesn't really exist, the cleanness of the hostel was notable.
I must also mention the café on the first floor.. The photo on the top of this entry is there and it has a very modern Asian style. On the hot days I stayed in Bangkok, I always ordered big green tea frappe and sat on the chair for long time. Besides there is free Wi-Fi available for the hostel's visitors and you can use the Internet as much as you want if you have your own laptop. Actually, I wrote a lot of this blog there.
The price tag of 500 baht approx. is quite expensive compared with the Bangkok's market price. However, Niras Bankoc, which refers to itself as a Boutique Hostel and receives many good reviews, was absolutely accommodating and worth the extra cost. Highly recommended.