[day111] Damascus with Friends
After staying in Lebanon for a week, I went back to Damascus again. For this time, I got the 14-day tourist visa and travelled around Syria. Besides, I expected to see a couple of my friends from Dahab, Shinya and Tomoko in Damascus. We travelled together until Amman and though we once separated there -they headed to Israel while I went to Lebanon- we made a promise to meet again in Damascus as we were planning to visit the city on a close date. Before leaving from Lebanon, I let them know that I was coming to Damascus on the day. After get out from the taxi, worrying about how to actually meet with them I was walking to the Marche Square where there is a lot of budget accommodation ally and found a familiar guy waving to me. Oh, it's Shinya! They anticipated my scheduling pattern and wait there having tea. It was a quite an impressive welcome indeed.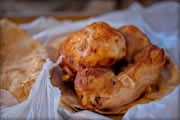 In the evening, we ate a famous grilled chicken for dinner. A whole chicken for 240SYP (6USD) was quite good value. Taking it to the accommodation, we started eating the meat with bare hands. The succulent meat with thin bread originally having wrapped the meat was absolutely delicious, probably the best in Syria. Besides accompanied with this juicy meat, we definitely needed some chilled beer. Although it was quite hard to find a liquor store as the Damascus downtown where we were staying was for Muslims, we finally managed to locate a small store by asking quite a few people around us. The beer with friends talking about each travels was far better than usual.
Shinya and Tomoko were planning to visit Lebanon for about a week from the next day. This was the time that I could make use of the fresh information there and they told me about Israel in return. It was quite enjoyable to exchange this kind of information from the fellow travellers. Though both of our plans were very tentative, we promised to get together again in Hama, the northern part of Syria probably in a week. Besides, they left me an important task saying "Please say hello to Iyo. She'll be back to Damascus Tomorrow."
Iyo is a girl we met in Dahab too. In order to visit Israel, she had left Dahab before us but coincidentally met again in Amman. We actually came to Damascus together and went to the Chinese restaurant on the night. After seeing off the couple, I visited the accommodation in the old town where she would be staying but she was not there. Losing any idea where she was, I was just strolling around the Moslem area with a special ice cream there and found a familiar girl pointing to me. Oh, it's Iyo. Though Damascus was a quite large city, it was not very rare to encounter some travellers since the places strangers can walk around were limited.
Standing at the corner and chatting, she explained that she had just finished travelling around Syria and had a plan to go back to Japan the next day. It was almost the end of her half a year round the world journey. Therefore, I was honoured to accompany her for her last dinner abroad and we decided to go a fashionable restaurant in the old town's Christian area. There are quite a few den style restaurants along the small alleys at the Christian area and many local young people seemed to visit them.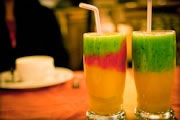 Somehow she looked bewildered when she saw the menu on the seat. I asked why and her answer was "There are no prices on my menu." I presume this was a sort of a gentle message from the restaurant to MY guest "Don't worry about the price and order whatever you like." Of course, I had a decent menu with prices. I didn't have the faintest idea a restaurant in Damascus would do this style. Well, this would be my treat though I'd been thinking about it. Anyway the bill was not as scary as Lebanon although we ordered some a la carte dishes and glasses of cocktails (Non alcoholic only, disappointingly!)
During the dinner, she told me a lot of useful information about the places and the accommodations in Syria. Besides, she gave me a Japanese guide book about the Middle East countries. Though I usually prefer not to bring any physical books during this trip, the guide book seemed very helpful in this area where the net often didn't work. Anyway I found meeting with friends again and again in the other countries is very interesting. It was a precious occasion to stay in Dahab such a long time. I feel like meeting with them again in the near future.
Share this article
Tweet