[day113] Damascus Solitary Walking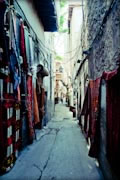 After parting from the friends, I remained at in Damascus and the time for a carefree solitary walking came. I actually like the time that I don't have to think about others and feel relaxed with walking around without specific purposes. It is said that Damascus is one of the oldest cities in the world as the city has been inhabited for more than 10,000 years. Due to the conquests after the conquests, most of the ancient cities were buried under the new cities but still the remaining old town has more than 1,000 years of history. And the best charm of Damascus is that we can walk through two areas with very different atmospheres, the Muslim area and the Christian area.
Damascus Muslim Area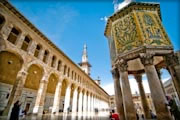 At the centre of the old town, Umayyad mosque, one of the biggest mosques in the world stands there and many pilgrims from all over the world come. Starting from the mosque, big souks (shopping streets) lay and various shops are selling their goods. According to the local people, you can buy anything there. As a person from Tokyo where you can buy literallry anything, I felt it was bit overstateding but in fact they have much many more local consumer goods than the other neighbouring countries. Looking at some cool leather stuffs, I thought I'd come here if I was a buyer of fashion items.
Damascus Christian Area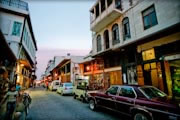 On the other hand the Christian area is less busy than the Muslim area. There are no big shopping streets like the souks, just walking along the narrow allies, I could find some small churches and mysterious souvenir shops. Although Syria registers Islam as their official religion, some Christians have been living for generations in Damascus even since before the Islam was born. At the Christian area, there are still some roads and churches mentioned in the Old Testament.
Trying "hammam"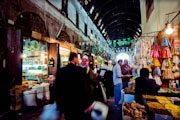 I had a chance to try "hammam" known as Turkish bath in the Moslem area. This hammam place has an amazingly long history. According to them, they've been running since 7th century and even the real crusaders used the actual site. Although this place is used as a kind of a social place for the local people, a foreigner like me was courteously welcomed too. After slipping into a seat of with a towel wrapped around my waist, the first stage was a dry sauna. This sauna was absolutely awesome. I felt like as if a lot of waste accumulated in my body scattered away and realised that I was quite tired at that time. The next stage was a steam sauna where everyone washed their body. And finally a brawny hairy Arabic guy was there to give me a peering and massage. Not listening to my moan, he continued his service rigorously for some minutes. It was actually nice despite some strong pain.
After all, it was the time for breaking downtaking a break with a bottle of coke as they don't have any alcoholic drinks for the Muslim rule although a bottle of beer must've been the best beverage on this occasion. For this full menu, they charged 600SYP (13USD approx.) Considering about the local prices, this was almost the same as going to a decent restaurant. Though it's quite nice amount of money, I can understand as I suppose this should be quite similar act to Japanese people going to big public baths. After checking out, they gave me a small cup of Arabic coffee and the drowsiness caused by the bath went away completely.
The legendary croissant.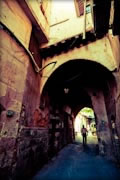 A croissant from Damascus, I heard about this story from many travellers from the North when I was in Dahab. At a back alley in the Christian area, there is a small bakery being talkedspoken of as a sort of a legend among Japanese travellers. Although they sell some sweets like éclairs, their main product is a delicious croissant baked with full of batters . The butter oil would stick to the paper bag if you don't eat quickly enough. Besides, one piece of it is merely 20SYP(0.5USD) and big enough for a small lunch. Though it might be difficult to find out the place as the area looked like a city maze, if you have a chance to go to Damascus, this bakery is definitely worth trying. As the Christian area is not so large you'll possibly see the store if you just walk around without a map. You wouldn't miss it since there are always queues by the local people and the smell of the butter is very intense.
The food culture at Damascus
Like this croissant, it seems like Damascus has a very vast range of food culture for the local common people. I always bought Kebab sandwiches on the street and draunk fresh fruit juice everyday using "vitamin supplementation" as a good excuse. Either mango or banana could be the best for me. What's more I must mention about a the gelato. There is a famous traditional gelato shop on the big souk at the Muslim area and their milk gelato was so smooth and tasty. It's absolutely essential for walking around the souks. Though the foods are totally different from Beirut where I stayed at just prior to Damascus, I suppose the food culture of each city just flourished according to the people who dominate there.
Share this article
Tweet