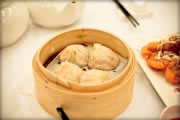 The friends gave me a tour around Hong Kong again on the second day. After eating Yam Cha, we set off to the Kowloon area again by bus. Hong Kong has one of the most advanced public transportation systems in the world and we can travel everywhere by bus, train and ferry for quite reasonable prices. Especially the bus which cost only about $US1 for an hour's trip. Maybe it's too complex for visitors but it looked useful once you get used to it.
Local Food Market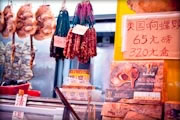 At first, we went to a local food market. The friend told me that once she took her Japanese female friend there but the girl did not really like the atmosphere. Well, I could see the reason. The first objects that caught my attention were dangled dried ducks and bunches of sausages. At a fish shop, shells and starfishes were wriggling in foam cartons aside from the pool for normal fish. Although the smell disgusted me a little, I enjoyed walking around there. I also found 'pirated' Japanese strawberries which were from a non-existent Japanese prefecture. I tried to take photos of them but refrained as the lady from the shop seemed very frustrated.
SOHO Area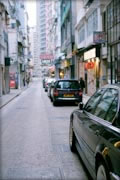 After coming back to Hong Kong island, we went to the so-called SOHO area which is located in the middle of the city. There are a lot of stylish cafes and bars along the paved road and it was very different from traditional Chinese style which we had already looked around before. I saw some young local people were posing for their friends' camera. However, it was not totally western. It was a harmonious fusion of Western and Chinese cultures as there were many of Hong Kong's iconic tall and old buildings around the area and some dirty signs added a sense of Asian tastes. I thought this was the image I pictured of Hong Kong in my mind's eye.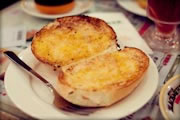 It was just a toast with condensed milk. I had this Hong Kong Toast in the SOHO area and it was surprisingly crispy and tasty. Accompanied with special milk tea, they are soul foods for the Hong Kong people. A toast and milk tea, British culture must have been left them. Incidentally, I asked the friends what sorts of food they eat usually and the answer was that they eat probably same amount of Chinese, Japanese and the other foods. Wow, it's impressive. Though the opinion must have been biased a little as she does love Japanese culture, they seem to like Japanese food very much.
An Invaded Country
In fact not only foods but also any sorts of Japanese culture were very popular in Hong Kong. Signs of Japanese brands were ubiquitous there. I can recall the name of them endlessly. Additionally, there were a lot of local Japanese restaurants and goods stores. Thus Hong Kong people were always consuming Japanese culture. One of my friends described this situation saying "We are 'invaded' by Japan, culturally." with laugh.
On the other hand, I found myself liking Hong Kong Design due to this visit. Presumably, the mixture of Chinese culture and British culture resulted their sophisticated styles of design which were amazingly gorgeous but not garish at all. I noticed that one of my favourite pairs of jeans, which I bought in Tokyo, was in fact a Hong Kong designer's brand. I didn't care about the country of the brand when I purchased them but the uniqueness of the style which didn't look like Japanese or Western appealed me at the store.
Hong Kong and Japan have a lot of similarities. Both of us use Chinese Characters and have been influenced by Western cultures a lot. Yet, each of us has its own distinctive culture as well. Similarities and differences, I suppose the balance of these two give us affection for the other side.
Share this article
Tweet