[day150] One of the Best First Class Lounges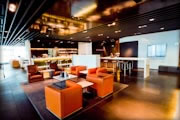 The next destination is Lisbon, the western most European capital city and I intentionally used connecting flights via Frankfurt not using a direct one from Tel Aviv. The reason for this is, of course, the Lufthansa first class Lounge at Frankfurt Airport. Although the first class terminal (mentioned in the previous entry) is restricted for those who have an actual first class flight departing from Frankfurt airport only, the first class lounge is open for those who arrived by any Lufthansa first class flights as well. Therefore, technically I was eligible to use the lounge as I flew from Tel Aviv by their first class flight.
What's more I found a definitive advantage of the transit. You can set the transit time to your convenience providing a number of flights are available. In other words, you can technically stay at the lounge more than 10 hours. This is a huge difference from the direct flight which you can start checking in only 3 hours prior to the actual flight. As the previous flight had left from Tel Aviv in the very early morning, I could manage my transit time for 11 hours duration.
When I got the next ticket, I was bit afraid of not being able to use the first class lounge as the terminal of the next flight was designated for only the short distance flights within the Schengen countries -the European countries which you can travel without passport check-, which means there were no first class flights departing from the terminal. However surprisingly, Lufthansa was operating a full scale first class lounge at the small terminal too. Because of this, the number of people using the lounge was just a few. Sometimes, I was the only one staying at the lounge although they had at least three or four people working.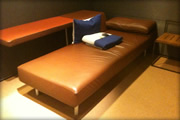 After having a hot shower, I went to a cabana. Although the bed making was quite simple -a large bare leather bed with a down quilt- warm lightings and amenities besides the pillow made the cosy room luxurious. By the way, when had I slept such a pretty private room before this? I must emphasize this fact in case you've forgotten; I'm a modest backpacker sleeping in dorm rooms. It's been a very long time since I could sleep well without any distractions.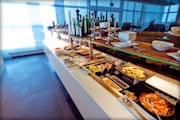 Meals were waiting for me after having a nap. Shrimp cocktails, Iberico hams, the gorgeous buffet table was overwhelmingly appetizing. The bar had every liquor from all over the world and it looked like they could make all sorts of cocktails according to your order. In fact, the drink menu had a massive 16 pages including 10 types of water. Though some beverages were seasonal only, without any doubt it was impossible to complete within just a half day.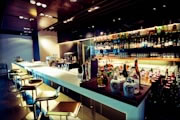 Thanks to this fantastic lounge, I could spend 11 hours in a relaxed mood. Besides, the serving style by German staff was notable too. Unlike the other too casual Westerns or humble Asians, they were always friendly yet not too rude. Therefore, Lufthansa became my favourite flight carrier on this whole trip closely followed by JAL and Cathay Pacific. Oh, I ranked Star Alliance's company as my best, even though I was using Oneworld's first class round the world ticket.
As I mentioned before, this series of flights in the Middle East and Europe was not included in the round the world ticket. Nevertheless, I didn't pay a regular fare at all. The trick was "award flights". I'd earned a significant amount of ANA(Star Alliance carrier) mileage for three years when I was in Japan and got flights on the following route "London -> Frankfurt -> Cairo -> (surface sector) Istanbul -> Tel Aviv -> Frankfurt -> Lisbon -> London(cancelled)". Although they charged a little for taxes, fuel surcharges and such, it was just a marginal expense considering the fairy tale like experience of upper class seats.
Just using a proper credit card for a few years, anyone can earn 50-60k mileages for 3 years. If you say "I wish to be on a first class flight but for the costwise..", why don't you make a credit card and research about the mileage systems? You know, all it takes is a little ingenuity.
Share this article
Tweet