Wallpaper Calendar "Night Views from the World" January 2011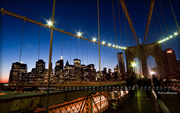 Although the travelogue hasn't been updated for a while, I'd like to start a monthly wallpaper calendar project using the photos taken from all over the world. This year's theme is "Night Views from the world".
The first one is the Brooklyn Bridge from New York City. I'll update the next one at the end of this month.
Share this article
Tweet