[day1] The first night in Bangkok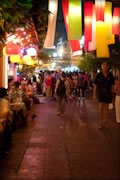 The taxi arrived at the hostel after one hour safe driving although the driver had a problem finding the place as the hostel is really tiny. I got a spacious bed and locker in a 4 bed dorm room. The hostel has a bunch of good reviews on hostelworld.com and it seems real as it was spotlessly clean unlike other cheap hostels. It made me sure the 8 days in Bangkok will be fantastic with this hostel. Maybe I should write a detailed review later.
The Mecca of Backpackers
As a first step, I put my luggage to the locker and it was time for dinner. Actually, it takes only 15 minutes on foot to reach Khao San Rd which is well known as the Mecca of backpackers and I had a go for there. Being fascinated with temples around the area and tuk-tuk which is a local bike taxi, it was Khao San Rd before I noticed.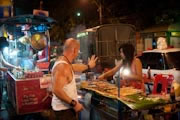 It was a very very classic backpacker town. Vivid colour neon lights, strange meals cooked at open-air stands, loud dance music from everywhere, I thought it was similar to Hong Kong and Taipei, but Khao San is somehow much denser than them. Thai, English, German, French, Spanish, Korean, Chinese, Japanese, every conceivable language was spoken around the area. What is more, just like the Mecca of backpackers, the meals are extremely cheap! You can eat a decent dish with 50 baht from stands and 100 baht even inside of restaurant.
However, I actually didn't feel easy with the town which is totally made for foreigners and after finishing a light supper, I decided to go back to the accommodation. I was maybe bit too tired due to the flight and wanted to send a couple of emails.
A strange Encounter
On the way to the hostel from Khao San, when I waited for a signal change, an old Thai guy said something to me. "Sorry, I'm not Thai ", I answered him in English. "Oh, well, I thought you are actually from Thailand!", surprisingly the guy answered in quite fluent English. I wondered why I looked Thai as I had a huge camera on my neck at Khao San but anyway we had a little chat as he was walking the same direction to me. His name was Schad and he came to Bangkok for the New Year vacation from another region in Thailand.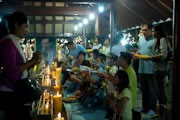 According to him, he came to see festivals and ceremonies as there are many at the New Year Eve in Bangkok. And he suggested I walk around with him when I told that I'd thought going back to the accommodation. At the very first I was sceptical with his offer as I'd known there were a lot of rip offs in Bangkok. But there were actually many temples around the area and I chose to go with him for a while. After 5 minutes walking, we reached a big temple and once we entered, the view of hundreds of people praying to Buddha came to my sight. Unlike Khao San which was busy with only foreigners and locals having their business with foreigners, there are indeed the real lives of local people. Many people were praying earnestly and it touched my heartstrings. I prayed to Buddha for my safety during the trip. Meantime, the trust towards Schad grew more and we started heading to Grand Palace where a big festival was held riding with tuk-tuk.
Bangkok Like Locals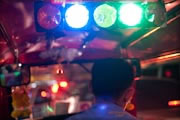 It was my first experience of tuk-tuk and it was sailing briskly in the humid Bangkok night. In fact tuk-tuk has a notorious reputation for ripping foreigners off but I felt safe as a local person was with me. The breeze was absolutely beautiful and captivated with the shining traffic view, I almost lost myself into an imagination as though I was a protagonist of a novel. It was only about 5 minutes but the vehicle which just had chairs and ceilings on a small bike was much more intriguing than the first class seat I'd sat on some hours ago. When I started worrying about the distance, we reached the destination.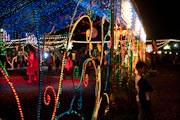 Schad paid the tuk-tuk and I told him I would pay for the next time. There was a huge carnival with colourful illuminations, pedlars and floats on a park. I heard many sellers shouting something. Besides, there were no foreigners in my sight. Perhaps, I was only the one, I thought. Nearby a stage where Thai pop singers were performing, a big group of Thai people were dancing to thunderous music emitted from gigantic speakers. If this strange guy hadn't talked to me on the way from Khao San, I wouldn't have seen such a fascinating view and may have meaninglessly stayed at the accommodation. I was thankful for this odd fate.
In a dodgy bar
After the festival, Schad wanted me to visit a local bar where he goes every year's end. He suggested sharing the bill for the bar and I accepted it. 5 minutes tuk-tuk again and the place we arrived was really a dodgy bar and looked vulgar. When we entered the bar, girls, who are not transsexuals incidentally, came to our table for services. I felt a bit of danger but many local customers in the bar assured me this place wouldn't be too bad. After checking the estimated cost, we started drinking. I hadn't had the faintest idea that I was attending such a festive party at a local bar in Bangkok.
3 hours passed and it was time for checking. The bill for two people was about 30,000 baht in total. Well, I knew it wasn't going to be that cheap but wasn't it bit too expensive?
Share this article
Tweet