[day67] Cairo Sightseeing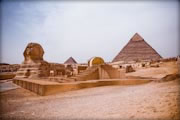 Since I stayed in Cairo for a week, I visited most of the touristic spots there. First of all, the place I must go was the pyramids. As I mentioned at the previous entry, my preconception towards Egypt had been the pyramids standing in the middle of vast desert. However surprisingly, the pyramids were located at the edge of the city and quite a few houses are build almost next to them. Besides a tremendous number of people were there. Although I always try not to capture unnecessary people in my photos, I couldn't avoid them this time. Nevertheless, the pyramids are so big that those people don't spoil the photos.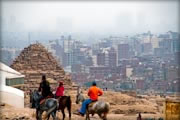 The entrance fees at tourist spots in Egypt are a bit expensive. Most places set a 'foreigner' price and for example the ticket for pyramids cost 60EGP(10USD approx). What's more, if you want to go inside of the pyramids or closer to the sphinx, an additional fee will be applied. I felt it was an official ripping off policy from the Egyptian government as their biggest industry is tourism indeed. Someone said that their pyramids and temples were super long term public works since thousands years ago. Besides another main industry of Egypt is in fact the transit fee of Suez Canal. I reckon Egyptians should produce something more.
I also went to an Egyptian Museum which is also one of the highlighted spots in Cairo tourism. Yet it didn't hit my spot sadly. New kingdom, Ramses I might've heard about their names during the nap in high school years ago but I couldn't find any interests towards countless statues arrayed along the corridors. I just realised that interests come from the basic knowledge of the subjects. Also there was a special room for loyal mummies but I didn't enter there as it required an additional entrance fee. In that situation, I found a small funny scene. Two guards were chatting leaning against a stone coffin and there was a big sign which said "Don't touch!" Well, this is the Egyptian quality indeed.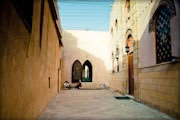 Old Cairo namely Coptic Area was my favourite place in Cairo. In fact Egypt is one of the oldest countries in which Christianity has been believed and a local sect called Coptic comprises 10% of the whole Egyptian population. They have been living in this Old Cairo since the second century far before Islam was born. Most usages of cars are restricted in the area and the winds passing though the small alleys were nicely cooler than the city sides. I found some small churches and people quietly praying there. Though I'm not a Christian, this scenery refreshed my spirit.
Share this article
Tweet