[day70] Sidetracked to Luxor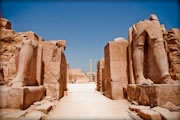 I was actually planning to stay only Cairo for a week. That's all in Egypt. However as the guy at Cairo's accommodation tried to sell a tour to Luxor and Aswan, I changed my mind and bought a train ticket to Luxor by myself. Well, in vain his effort was. It takes about 12 hours from Cairo to Luxor by a night train. Even though I'd have preferred to take a day train with nice views through the window, for security reasons only the night train is available for foreigners. I chose the compartment car over sleeping car as it was cheaper.
The train arrived Luxor when I was talking with Japanese university students. There were more than 20 people welcoming us when we left the train though as you guessed those people were just trying to pick us up to their tours or hotels. I'd known this but it was much noisier than Cairo. I told one of them the name of the hostel I'd booked already and he brought his mate. According to him, he would lead me to go there. It was obvious that he would require some amount of tip after the guiding but I decided to follow him as I rationalised myself that I was buying time from him and the price wouldn't be too bad. After all I realised that when I was with him apparently the other people wouldn't try approaching me. I saw many visitors had difficulty to get rid of those annoying people. In a way this could be the best to avoid stressful time there.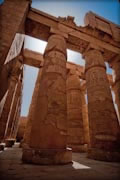 Luxor is divided to East and West by the Nile River, and the city including my accommodation is located at the East side. There are two phenomenal temples at the East side and I went to both of them by bicycle on the day of the arrival as they were located at reasonable proximity to the city. In fact they were surprisingly impressive. Both of the temples, Luxor and Karnak were so gigantic that I didn't care about my lack of historical knowledge. I was just overwhelmed. What's more, somehow only a small number of people were there despite the fact those two are a very famous tourist spot. So I could walk around there without irritation.
On the other day, I went to the west side with a charted taxi. The taxi just brought me to the entrances of main sites and waited until I came back to the parking. It was the same pattern as I used in Ayutthaya, Thailand. For costwise, it could be wise to join a group tour but I don't like those tours as I need to settle one place until I get a really nice photo and I don't mind to cover all the tiny detailed places. I could've picked up the other tourists to my taxi and reduced the cost but failed to find the ones who were willing to go with me. Anyway the taxi didn't cost too much for me as it was based on Egyptian price.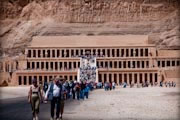 Unfortunately all activities of photography were forbidden at the Valley of the Kings where I went first. Though I entered paying quite a high entrance fee the old cave paintings and coffins didn't arouse my mind. I felt the same as the Egyptian Museum I went at Cairo. And at the next destination Mortuary Temple of Queen Hatsheptsut, I even didn't dare to enter the site as it was way too many people. In a way, it was quite impressive to see the numbers of buses lining up at the parking. And strange to say, there were no people at the ruins, which are in fact Tombs of the Nobles, just around the parking. According to the guards nearby, unless I enter the inside of the tombs I was free to walk around the site and no problems for photography either. As usual, an old guy tried to give me a guide but ignoring him I enjoyed walking and photo shooting alone.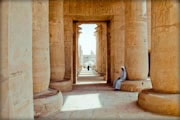 I also went to two rather minor sites, The Ramesseum and Medinet Habu and I found them better than previous ones. Sitting on a stone in the middle of deserted ruin, I felt as though I'd been transported through time to 4000 years ago. It was indeed worth coming with an extra cost. I heard many people would skip these two places but I strongly recommend them over the other famous spots like Valley of the Kings and Temple of Queen Hatshepsut.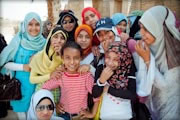 There was an interesting moment at the exit of The Ramesseum. Local kids coming by a school trip suddenly surrounded me and asked me to be in the photos with them. Also they made a scene being aimed by my camera. I think meeting with Asian people was a quite rare occasion for them. I'd wholeheartedly welcome this kind of noise for those kids were totally different from people lured by the smell of money. Their teacher who tried to speak to me with a little broken English was nice as well. Indeed, except for the people working for the tourism industry, most of Egyptians are nicely ingenious.
I was actually planning to go back to Cairo at once and going to Nuweiba which is a border town next to Jordan. However as the guy at the accommodation told me "It would be cheaper to go to Nuweiba via Dahab by bus. We can help you to buy the ticket", I bought the bus ticket to Dahab by myself. Well, in vain his effort was. According to information, it would take about 15 hours to go there. But I didn't know about Dahab very much and couldn't guess what was waiting there at that time.
Share this article
Tweet