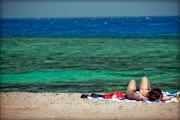 Well, in fact I didn't know at all about Dahab. I'd even thought about just passing through to Nuweiba if the bus had arrived at the terminal on time. However, the bus which was supposed to arrive in 15 hours from Luxor to Dahab actually took more than 20 hours and I had to stay at least one night there. As usual, many people tried to bring me to their hotels and a piece of advice from a Korean guy who was with me on the bus determined my life in Dahab. "Would you like to come with me to the hostel called Seven Heaven?"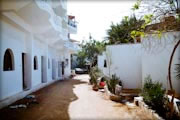 Dahab is a Read Ocean Resort and very famous for diving. Seven Heaven is one of the many hostels located along the coast line as well as cafes and diving shops. As I'd planned to stay only one night, I took a single room - to be precise it was actually a twin room- and the room cost merely 30EGP(6USD). Besides the hostel runs a diving centre and as a nice Japanese instructor is working there, many Japanese tried to get the license at the time.
Unfortunately, I'd had a serious sickness on my lung years ago and the doctor stopped me doing any activities with extreme air pressures such as scuba diving. Nevertheless even normal snorkelling was absolutely mesmerising for the high transparency of the Red Sea and colourful fish slipping through the coral reef. I could see why there are so many people being totally engrossed in this blue world. Well, if I could dive, I would spend a crazy amount of money on diving equipment and underwater photography kits (water proof cases for DSLR are shockingly expensive!). Perhaps the order from the doctor could be a reasonable deterrent against bankruptcy.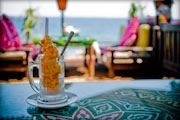 On the days without snorkelling, I often went to the restaurants nearby and writing blogs, reading Kindle, enjoyed the resort alone. A jug of100% fresh mango juice was only 15EGP. It was in fact quite expensive by Egyptian standards but I didn't mind as it was absolutely delicious. I usually had 2 jugs per day as well as strawberry and melon juice for "vitamin supplements".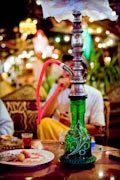 From the evening, most of Japanese people got together and went to the restaurants. As the most restaurants in Dahab somehow set special discount prices for Japanese, we could eat a decent course menu with a very reasonable price. For example, the usual course consisting of lemon juice, bread, salad, soup, main, desert and water pipe was only 20 EGP. It was very cheap indeed, though I couldn't smoke even water pipes. As Dahab is on the sea coast, there are so many seafood menus and I typically liked the seafood soup served with a bunch of bones and shells for the rich taste.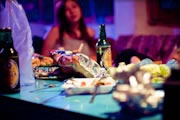 The everyday routine finished with drinking beer and talking after the dinner. Especially a game called "Dahab Game" played around the world by Japanese travellers was totally fascinating. Basically, it is the game to find the people telling lies and it takes 30-60 minutes per game. As we had to keep talking during the game, the game connects people easily even at the first time. Indeed, this is the game made for travellers by travellers. The game was so addictive that sometimes I was playing it even in the dream. I wish I could play Dahab Game again someday.
Truth to be told, I hadn't had a good impression towards accommodation with many Japanese people. Seriously, I don't really have it even for now. However, most people I met here were so nice. At the time, there were more than 20 Japanese at Seven Heaven and many of them were long term travellers calling into Dahab to dive. A couple who travelled through Africa for the pre marriage round the world trip, a tutor who had been victimized with a robbery yet still loved travelling, an ex-Italian chef who made up his mind that diving is going to be his life time job enchanted by Dahab's blue ocean, a NEET who came to Dahab just for playing Dahab Game, everyone has their original stories and we talked until midnight every day.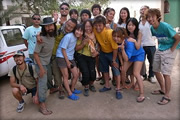 As a result, I stayed there unexpectedly 25 days in total. Yes,a heavenly 25 days. In Japanese language, we describe this state as "sank" which means staying one place for a long time during a trip. It's quite depictive isn't it? Though someone said it's quite rare to see the person without diving but having stayed so many nights, I didn't regret the days at all thanks to the experiences and friends from there. In fact, the fresh information from travellers having passed through Middle East was very useful afterwards. Besides above all, the fellowship of future travel was absolutely precious. Including myself, five people were planning to go up to Jordan and we decided set up the trip together. Though I mainly travel on my own but sometimes it's nice to have company.
The next destination is Petra in Jordan, filmed with Indiana Jones, which has one of the biggest and the most famous ruins in the Middle East. Even though I'd miss the friends who had spent unforgettable days together in Seven Heaven, I started thinking of the next trip. I know that as the number of meetings grows, so does the number of farewells.
Share this article
Tweet